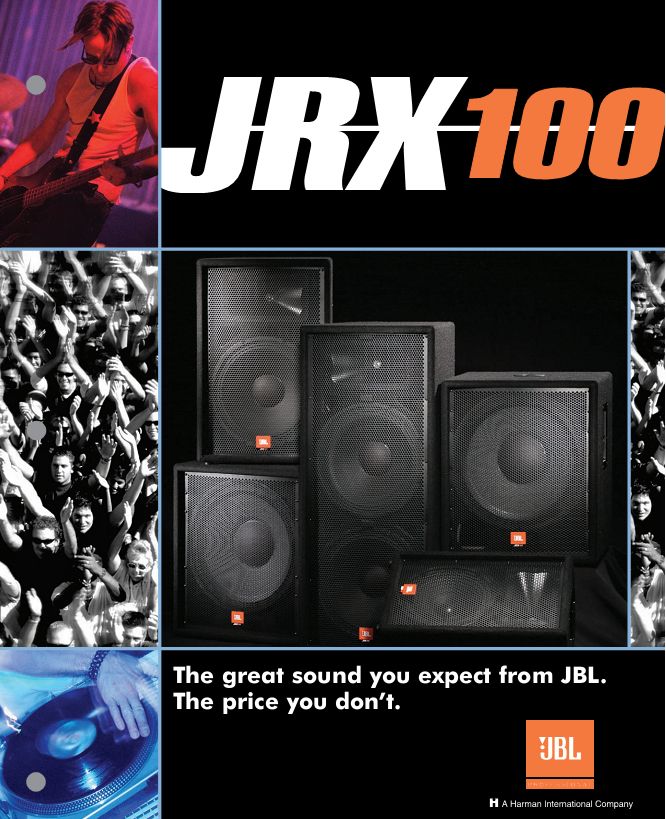 ---
---
---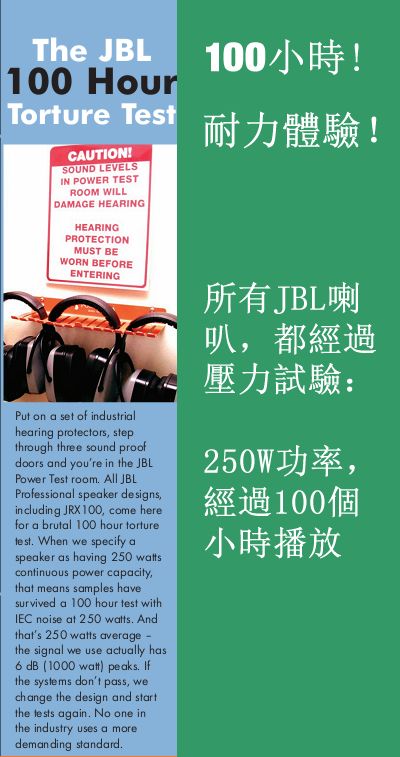 JRX 112M 250W 12" Stage Performance Speaker, 1 Pair
Features:
100% Hong Kong licensed, maintenance. Be careful if other sellers are parallel.
This purchase is for 1 pair speakers
---
Use place:
Clip band / show
Live sound reinforcement, speech and vocals, music playback in entertainment, A/V, and institutional venues – especially when ease of use and portability are important factors.
Amplification and monitoring for electronic musical instruments.
Everywhere you need to be heard.
JRX112M
12 in. Two-Way
Stage Monitor
Loudspeaker SystemThe JRX112M is a portable, twelve-Inch, two-Way speaker system designed specifically for live performance stage
Monitoring applications.Features

JBL 12 in low frequency driver with a 64 mm (2.5 in)
Diameter edgewound
More cross-Sectional wire area in the voice coil gap than
Round wire designs, for greater efficiency and power handling.
Ferro-Fluid cooled compression driver with titanium
Diaphragm improves high frequency performance as
Well as system reliability.
The advanced network topology crossover design shapes
frequency response and delivers "coherent summation"
In the crossover region.
High-Voltage capacitors and inductors with massive cores
And heavy gauge wire enable the crossover network to
Handle high power without saturating.
Progressive Transition™ high frequency waveguide provides
Superior coverage control, reduced distortion, and smoother
Frequency response.
The rugged, acoustically superior enclosure is constructed
From 19 mm (.75 in) MDF (Medium Density Fiberboard) using
Advanced adhesives and mechanical fastener technology for
Extreme durability and improved low-Frequency performance.
SonicGuard™ protects the highfrequency driver from excess
Power without interrupting the performance.
No-Resonant, all-Steel handles are used.
Attractive 18-Gauge hexagon perforated, steel grille protects
components from damage.
DAngle pole-Mount socket allows the speaker to tilt
10°for more uniform audience coverage.

Specifications:

Power Rating: 250 W / 1000 W
Frequency Range: 60 Hz – 16 kHz
(-10 dB)
Dimensions
(H x W x D): 572 mm x 394 mm x 318 mm
(22.5 in x 15.5 in x 12.5 in)
Frequency Response: 70 Hz – 12 kHz
(±3 dB)
Nominal Impedance: 8 ohms
Sensitivity: 99 dB SPL
(1w/1m)
Recommended Amplifier Power: 250 W to 500 W into 8 ohms
Maximum SPL: 129 dB
Nominal Dispersion: 90º x 50º
Crossover Frequency: 1.8 kHz
Weight: 19.5 kg (43 lb)
High Frequency Driver: JBL 2412 1 in exit compression driver
Mounted on Progressive
Transition™ Waveguide
Low Frequency Driver: JBL M112-8
Input Connectors: Neutrik® Speakon® NL-4 (x1); .25 in
TS phone jack (x1); parallel[contentblock id=11 img=gcb.png]